Art, devolution and economic justice
Post by Jenny Hughes
Here are the notes from a short talk I did at the Art and Devolution event organised by Abigail Gilmore at the Old Granada Studios in Manchester (UK) last week.
The 'Poor Theatres' project explored the relationships between theatre, poverty and economic justice. The first phase of research ran from 2014-2015 and it worked historically as well as in the contemporary moment –
Its historical thread worked from a starting point of the New Poor Law 1834, exploring theatre's relationships to the new architectures of poverty that emerged in the nineteenth century (city, especially) – extending the histories of socially-engaged theatre practice by looking, for example, at theatrical entertainments in Victorian workhouses …
Its contemporary thread worked with theatre projects in sites of economic deprivation and addressing issues of economic justice. We documented five projects across Greater Manchester and also carried out online conversations with 15 artists engaging in economic justice projects across the world. This led to a free online resource with around 250 items – interviews, recordings of performances, scripts, images searchable via map and database. We wanted to create a research platform whereby some of the know-how, creativity and intelligence contained in the everyday life of a theatre project – its commons (a term I'll return to) – can be shared.
The contemporary part of the research drew inspiration from Frederick Engels' tour of Victorian Manchester in The Condition of the Working Class in England, published in 1845. Engels was one of the first to point out how the spatial logics of capitalism were marked by – and worked to conceal – stark inequalities. In his account of abject poverty in the 'great towns' of Manchester Engels takes readers from Rochdale, to Bolton, to Ashton-under-Lyne, and into the centres of Manchester and Salford – drawing attention to the plight of the poor at the height of the industrial revolution.
We documented five local projects working at points on Engels' map of Manchester and its great towns. The idea here was to explore how theatre projects navigate a culture of austerity, as well as long-term inequalities that shape people's lives in sites across the region. That is, to revise Engels' account of deprivation by documenting the ways in which artists and communities draw on theatre activity to critique and celebrate their localities.
The projects were:
The Agency – from Contact Theatre working in partnership with Battersea Arts Centre in London. The Agency is an innovation of Brazilian theatre director Marcus Faustini – using methods of devised theatre as a training tool to develop entrepreneurial ventures – small businesses – led by young people from economically deprived areas (in the favelas, initially, and more recently, working from the Miner's Centre, in Harpurhey).
Bolton at Home/Octagon Theatre partnership – The Octagon – a major regional theatre has an ongoing partnership with Bolton at Home, a social housing charity responsible for 18,000 homes across Bolton. The partnership means that every Bolton at Home tenant is a member of the theatre, and it also supports a free ticket scheme and theatre clubs in neighbourhoods.
The Edge Theatre/Booth Centre theatre company – a theatre company of performers who have experienced homelessness, supported by a partnership between an agency that provides support for people struggling with homelessness, and an inspiring (and relatively new arts centre) that serves the diverse communities in South Manchester
Men's Room Manchester – an arts and social care agency that works with vulnerable young men in the city centre, delivering an regular arts provision underpinned by a progressive social care ethos …
Finally – the Royal Exchange Theatre's three-year partnership with New Charter Housing, a social housing charity in Ashton-under-Lyne – which included a range of theatre projects linking a school and neighbourhood, culminating in an outdoor community performance produced as a partnership with Chol Theatre in Huddersfield. The performance ended with the spectacle of fire letters spelling out the phrase 'THIS IS OURS' in front of a crowd of people from the local neighbourhood …
That gives an overview of the region-specific aspects of the Poor Theatres research. I've been asked to explore a key challenge arising from the research for the devolution agenda, and to think about how it might be addressed by the art and cultural sector.
The challenge is – how can we ensure that a drive for economic justice is at the heart of this discussion?
The initiatives that I am describing here address economic inequalities in various ways – but many are struggling to survive a culture of austerity, where cuts to public subsidy and state support are threatening cultural practices that cannot hope to ever be market efficient. On the one hand, the devo agenda turns to the riches and permanence of 'place' as a means of defence against economic precarity. On the other hand, it is embedded in a neoliberal economic agenda that threatens to decimate local cultural practices by turning place into an income-generating venture and, in turn, reinforcing profound inequalities.
This is a context where socially-engaged art projects – (any productive 'unit' in fact – from individuals to all kinds of agencies) – are asked to evidence social and economic effectiveness – to show the 'economic and/or social return on investment', and as part of this – to work harder, do more with less, to be 'realistic' rather than idealistic. The rules of the economic game ask us to treat ourselves as if we were – not democratic citizens – committed to economic justice, political rights, collective action – but rather – to cite political philosopher Wendy Brown – investment portfolios, economically efficient, productive, worthy of speculation.
From my position – the Northern Powerhouse seems like a narrative of economic development that fits to this model … Northern Powerhouse or Northern Poorhouse?
So – that's the challenge – how might it be addressed?
Working alongside artists in contexts of austerity – I've been drawn to the idea of the 'commons' to understand the resource systems which support and sustain these practices. That indicate a practice of resource that is 'extra-economic'.
To return to the Royal Exchange partnership in Ashton-under-Lyne – when this worked well, artists practised responsively and in concert with an existing commons in the neighbourhoods it was working in … The creativity that exists and that is sustained before – during – and after – the time of the funded 'project'.
By commons, I mean those things that belong 'equally to more than one' – the resources attaching to a place or population, organised in ways that hold those resources open for use by all. 'Commoning' refers to the practices that use, replenish and protect such commons.
What might a cultural commons of the north look like?
Commons – the extra-economic things that sustain any economic relation – can be lots of things. The missions of arts organisations – embedded in the memory of its relationships, buildings, archives. The energy of a project or a place. Commons can be informal relationships, formal partnerships, clubs, hubs, institutions – committed to an ethos of sharing or being open to the common. Commons are also feelings, atmospheres, ideas, images, perceptions, knowledge – again, shared and held in common, available to all.
Writing about the proliferation of commoning in Detroit in the US, Adrian Parr shows how commons projects in sites of extraordinary precarity develop in ways that are slow, partial, unstable, ad hoc, experimental, improvised, and hybrid (2015, 87).
Good examples of commons initiatives tend to stress voluntary participation in a commons, born of recognition of the mutual benefits of commoning. In terms of the arts – 'visitors', 'audiences', and 'service-users' are reframed as 'commons contributors'. Profits created are re-invested in the commons … Small, medium and bigger institutions put in as well as take out of the commons. Commons governance systems ensure that resources are made available to all so long as they are not taken away from others, or left depleted after use.
Commons cultural initiatives are embedded in post-crisis – and fairer – systems of economic governance – which focus on diverse models of ownership, production and consumption; cooperative working practices; generative rather than extractive use of resource; open access; freely available space; social forms of entrepreneurship.
All represented in the five case studies of the Poor Theatres research. All perfectly possible for us to bring about, should we want to.
For more on the commons, see a series of posts 'Towards a theatre commons', published on this blog in January 2015.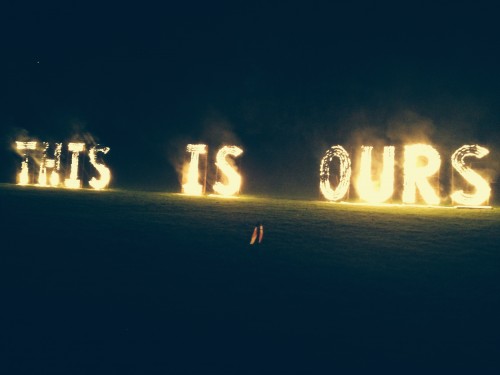 Adrian Parr (2015) 'Urban debt, neoliberalism and the politics of the commons' Theory, Culture & Society, 32(3), 69-91