Documenting precarious theatres – precariously …
Post by Jenny Hughes
The first phase of the poor theatres research is about to end and it's time for a blog post that reflects on the process of putting together the free online resource on theatre, poverty and economic justice initiatives available on these webpages.
On this database there are almost 200 items relating to theatre projects in sites of economic deprivation or engaging with economic justice issues. These items extend from filmed interviews with artists and participants of Everyday Heroes, an outdoor performance taking place in Ashton-under-Lyne in September 2014 (as part of Royal Exchange Theatre's collaboration with social housing agency New Charter), to walking tours with staff connected to the Men's Room, an arts and social care agency working with vulnerable young men in Manchester city centre over the summer of 2015. There are photographs, scripts, film and audio clips from interviews and 'walks and talks', recordings of performances and musical tracks, reports and policy statements. There are a range of different arts and theatre approaches depicted, from the innovative blend of theatre devising methods and entrepreneurialism of The Agency, a model of practice imported to the UK (via Contact Theatre in Manchester) from the favelas of Rio de Janeiro, to the theatre ensemble philosophy of the Booth Centre Theatre Company, where performers with experience of homelessness are developing a series of performance works. We wanted to document a range of practices – the examples of projects included here represent diverse and overlapping methodologies, approaches, histories and principles. They include large and high profile as well as smaller initiatives, and encompass theatre projects focusing on activism for economic justice, social care and welfare, community development, social and/or political rights, to arts projects aiming to extend cultural access and develop an artistic commons.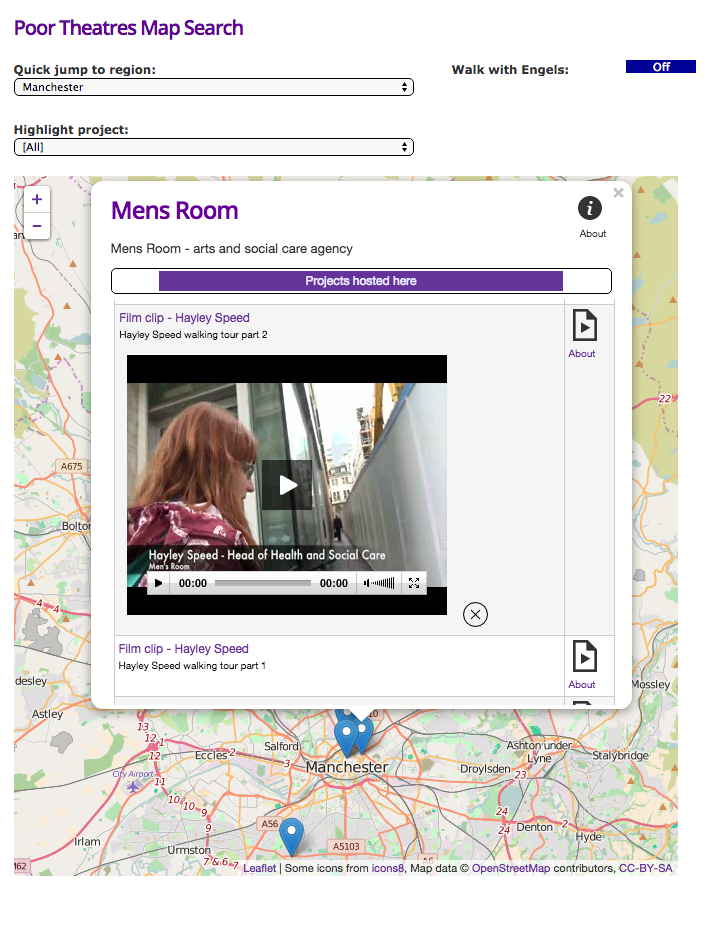 Users of the resource will notice some unevenness in terms of the extent and type of materials available for each project documented. Our focus was necessarily responsive to each organisation here – to what the organisation was doing during the period of the research. With some projects, we explored one performance or part of a project only and with others – with The Men's Room for example – we responded to a request from the organisation to use the opportunity of the research to reflect on the history of the organisation during a time of transition. In this way, we hope, the research became useful to the arts organisation as well as to wider audiences.
What we present on the database is a series of sprawling – or, to use posher terms – 'decentred' or 'dispersed' – reflections on a range of practices that sit somewhere between research process and research outcome. In all, the database presents a visual and textual scrapbook that captures something of the ephemeral and precarious practice of socially-engaged theatre in economically deprived sites. You are unlikely to find carefully crafted or critically informed analysis of practice there – rather, you will find 'off the cuff' reflections that communicate the vernacular and everyday knowledge of those engaged in this work. Accompanying these reflections are a series of documents that reflect the everyday processes of the projects – performances, photographs, flyers and reports. We hope that this documentation will be useful to artists but also to students and teachers seeking to open up conversations about the methods, purpose, principles of socially-engaged theatre.
For a series of 'teaser trailers' that provide a good way in to the documentation available on theatre projects local to the site of the research (Manchester, UK) and nationally, click here
The online conversations with national and international artists were an experiment in methodology as much as an exercise in broadening the local conversations about the relationships between theatre, poverty and economic justice. I wanted to explore the use of online environments for research (rather than carry out numerous environment-damaging flights to complete case studies in selected sites). Naomi Paxton, the Research Associate for the Poor theatres research, undertook most of these, and you can read her reflections here. We both felt, in common with many of the artists taking part, that these conversations were  inspiring in lots of ways, and certainly did broaden the conversations, but were sometimes limited in terms of depth and detail. So, they function as good conversation starters rather than detailed documentation of the organisation represented. Artists reported various levels of comfort with the exercise. For me – I enjoy the feel of the skype conversations when undertaking and viewing them – you can sense and sometimes even see researcher and artist on opposite sides of the world leaning in to the screen in the effort to communicate across such vast and yet tiny (digital) space. When it works, there's a rough aesthetic of friendly encounter and a nice sense of intimacy that comes into play. There was an issue about access here – it was far easier to encourage European and US based artists to participate in this exercise – in part because of access to technology, and also in part – I think – because of the comfort and familiarity with communicating in this way in these parts of the world.
For a series of 'teaser trailers' for our international online conversations, click here 
Many if not all of the practices documented – locally, nationally and internationally – exist on a financial shoestring. Through a long-time relationship with The Men's Room, I have only ever known them to have secured funding for the next few months of work. The partnerships with social housing and arts organisations (there are two documented on the database) are likely to suffer cuts because of the UK government's attack on social housing happening as I write this. Many small organisations are being asked by funders to provide evidence of social and economic impact – to show how taking part in the arts changes lives and improves communities in order to secure funding, but these kinds of questions are well beyond the resources of those organisations to answer (and very difficult to answer even with resource).
These are precarious projects run by artists working for relatively little money, and without extensive resource, and as a result, these are practices that exist without archives. In some ways, the online resource on these webpages represents a first attempt at establishing an archive, and a practice of archiving, for such precarious projects. When I asked Lisa O'Neill-Rogan from the Octagon Theatre (now at Bolton at Home, a social housing agency) for flyers of community shows taking place as part of their partnership with Bolton at Home prior to the research period she looked at me askance and said – 'we had no funding for flyers'! The archive for The Men's Room – an internationally unique project that has produced some extraordinary artwork with young men in Manchester – exists across the various laptops of staff past and present, many now defunct.
Where are the archives for socially-engaged theatre? Should those of us who care about this area of practice be worrying more about this? The practice, and knowledge arising from these practices, often exists in the head, heart and hands of artists themselves, hence the privileging of conversation in our approach to creating the database.This can mean that a whole organisation, its ethos and practice, survives only by means the commitment of one or small groups of arts workers. There are bigger questions about sustainability of practice as well as overloading and exhaustion of artists raised here. These are practices that leave little behind other than a series of connections that can be retraced only by asking people to remember key moments and 'who else should we be speaking to?'. What we were trying to do was capture these ephemeral knowledges and hold them together in one place and time, to enable a broad range of people to access them.
Documenting the Octagon Theatre's partnership with Bolton at Home presented an additional – and welcome – set of challenges. The arts practices here are embedded in a community and site-responsive partnership, which means that the work happens in diffuse ways, spread out over time and space – challenging for a time-limited research project. So for example, we were planning to track the theatre activity of one newly formed group engaged in an extraordinary process of community-led improvement to their estate – the Cawdor Campbell Resident's Association – but they found that they preferred other kinds of activity rather than theatre! They are included in the documentation – (why not? Theirs was an interesting decision) – and in fact this worked to good effect, as it also led to a broadening out of the focus of the documentation to include a more historical reflection on the partnership as well as Bolton at Home's brilliant Percent for Art scheme. However – here it became clear that I could have spent the entire research period in Bolton and not got to the bottom of what was happening with the arts and social housing in that town. All I could do is capture a moment in time …
With all of the documentation there were ethical issues about representation that I will not go into here – we tried to attend to these issues by ensuring people were in control of how they were to be represented on the database (by a multi-stage process of gaining permission for example).
Because of current economic pressures on projects, all of whom are facing budget cuts in a context of austerity, or were short-term in orientation because of the project-based funding of this field of practice, I sometimes felt like I was documenting an area of arts practice – socially engaged, politically driven (with a small 'p'), public-spirited – that was slowly dying. Occasionally, the research felt like a process of memorialisation rather than documentation. A miserablist perspective of course – that doesn't reflect the commitment to this work of many many artists as well as emerging artists in the field. However, with the neoliberal dream and its complementary economic policy of austerity showing few signs of receding, and effecting people all over the world, even in the face of the most extraordinary damage to the social infrastructure, I am convinced that we need to start thinking up and experimenting with alternative economic models to support this work and those engaged in doing it. This has triggered an ongoing exploration of the philosophy, history and current manifestations of 'commons' approaches and consideration of how these might be adapted to the contexts of theatre practice (see the 'Towards a theatre commons' series of blog posts).
The database is a commons of sorts – a free online resource available to all. I wanted to challenge an understanding of how knowledge is made and how it flows. That is, I don't see my role as a researcher as developing knowledge and passing it on to audiences outside of Universities, where it may or may not have 'impact'. Rather, the aim was to simply capture the thought, intelligence and know-how already existing in practitioners and represent that knowledge in its own frame of reference. Given that socially-engaged theatre practices tend to live in people rather than archives – what becomes most important is the connections created through conversation and encounter (online and in real life). My favourite – and the most enriching – part of this research has been the conversations I've been privileged to have with people who are passionate, committed and incredibly articulate about what they do. These conversations have been moving, inspiring, incredibly thought-provoking and memorable – thanks to all who gave up precious time to create this resource.
If you are an artist, arts professional, student or researcher interested in contributing to the material on these webpages, please get in touch. We are continuing to grow our list of artists and organisations working on issues of economic justice (see 'resources'), and we also regularly publish guest posts from artists and researchers our research blog.