Performance
We were delighted to work with Carran Waterfield from Triangle Theatre to develop a piece of solo performance, entitled The House, during the first phase of the research (2014 – 2016). The House was an outcome of a performance research process that explored questions arising from an attempt to represent experiences of poverty. What might be learnt about the challenge of representing poverty from a creative exploration led by a solo female performer? What new understandings emerge from a performance project exploring techniques of self-presentation developed by poor women to reproduce, trick, exploit and expose the regulatory discourses that called them into appearance?
Carran Waterfield and Jenny Hughes collaborated on an article, 'Sing for your Supper: Pauperism, Performance,and Survival', exploring the findings of this research project. This can be via a freely available, online issue of Lateral: Journal of the Cultural Studies Association on 'Leveraging Justice', 5.2 (Fall 2016), edited by Maria Estrada-Fuentes and Janelle Reinelt.
The House premiered on 3rd and 4th November 2015 in the John Thaw Studio (Martin Harris Centre, University of Manchester). Further performances took place on 24th and 25th November 2015 in Heron Corn Mill in Cumbria and at the Gendered Citizenship and Performance conference at Warwick University on 4th and 5th January 2016.
A 'working diary' written by the performer in character as a pauper, giving an unique set of insights into the research process, is available here  'Working diary – The House'
Excerpts from the programme:
"Welcome everybody. We're here for the people who have nothing, for those who don't have very much, for those who have very little, for those who have … nothing. Have you got anything? Have you got a lot? Have you got heaps? Could you … dig deep? Could you … dig deeper?"
The House traces a series of real and imagined characters, and narratives of destitution, institutionalisation, creativity and care, over a period of almost 200 years. An ancestral epic that explores how poor women have related to systems of welfare historically and contemporaneously, The House draws on the performer's research into her own family's engagements with welfare regimes dating back to the Victorian poor law.
You are warmly invited to The House, where you will meet our resident Pauper Portress, Philanthropist Fun-Raiser, Workhouse Matron, Freelance Artist and Job-Seeker, as well as other purveyors and recipients of welfare. Witness their efforts, achievements, and experiences of revolt and emotional breakdown as they make a spectacle of welfare regimes, past and present.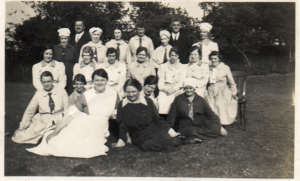 "We decided that it would be a good idea to put on display just how the money is being spent … We all have the best intentions here, and I'm sure that you will agree that the paupers have made an excellent effort on your behalf, on their own behalf, on everyone's behalf"
The House is an outcome of a creative research project that investigates the implications of naming and defining somebody 'poor', and focuses on the profound forces of misrepresentation and distortion that coalesce around the body of the poor female. From the 'dangerous, saucy, filthy wretches' described in an extant diary written by the master and mistress of a Rochdale workhouse in 1842, through to the punitive welfare regimes of today, the poor female is seen at once as the cause of her own poverty, an emblem of the undeserving and debased poor, and a force for self help. Drawing on improvisation, physical work and devised and documentary theatre techniques, the research has explored the techniques of self-presentation developed by poor women to reproduce, trick, exploit and expose the regulatory discourses that call them into appearance.
THE HOUSE RUNNING TIME IS 1 HOUR AND 15 MINUTES
Further information
The premiere of The House was accompanied by a one-day symposium on theatre, poverty and inequality – Making theatre in the midst of austerity on 4th November 2015. Keynotes speakers were Stella Duffy (Fun Palaces), John McGrath (Manchester International Festival/formerly National Theatre Wales), and Reece Williams (Young Identity and Inna Voice Manchester).
Carran Waterfield has over thirty years experience working nationally and internationally as a theatre practitioner and teacher. She co-founded Triangle Theatre in 1988, and is now based in the North West of England, where she creates and performs new work, and leads movement based teaching projects for universities and conservatoires.