Collaborative Perspectives on Online Presence
Jenny Hughes and Carran Waterfield
This blog post is based on our presentation at the North West Consortium Doctoral Training Partnership 'Promoting Collaborative Research Through Your Online Profile' event on 25th January 2016 – we were invited to talk to PhD students about how we used online presence to support a research process.
Here, two self-confessed 'slow learners' when it comes to online communication – a theatre practitioner and theatre researcher – developed online presences that provided a diverse range of engagement points with the research. Our online presence included a blog written in character as a pauper artist, a website and database, a You Tube site, facebook page and twitter profiles.
 Jenny: Neither of us started as whizzkids on things online – we are both slow learners – and I don't think that either of us want to suggest that we have got all the answers. We will share some insights and also give a bit of a personal perspective – all of which I hope will help you think about how to manage your own online life in a way that nurtures and supports – rather than exhausts – your research and yourself as researchers (and that tension between nurturing and exhaustion is perhaps the most important point of what I'll be saying today)
At the beginning of the project I was resistant to engaging online, for a number of reasons – some a little spurious, others more serious – the research isn't ready to share, I don't have anything to say yet, if I'm online all the time then when am I going to do the actual research? Etc etc …
Conventional scholarly research suits me because you can sit back, observe and communicate through well worked out writing rather than being 'present', off the cuff, on your feet. However – if you're doing research, you have to be up for communicating it in all kinds of ways to all kinds of audiences. The really interesting questions about online presence are actually about research presence. Being present as researchers online gives us an opportunity to be cognisant, active and in control of who we want to be as researchers, what kind of identity we want to project, who we want to engage, link and communicate with. Online platforms provide an extraordinary way of improvising responses to these kinds questions in a way that isn't fixed but is full of possibilities.
What constituted the online presence for poor theatres research? It comprises of, briefly, a website, a free online resource with documentation with local, national and international theatre projects, two research blogs, a twitter profile, facebook and You Tube.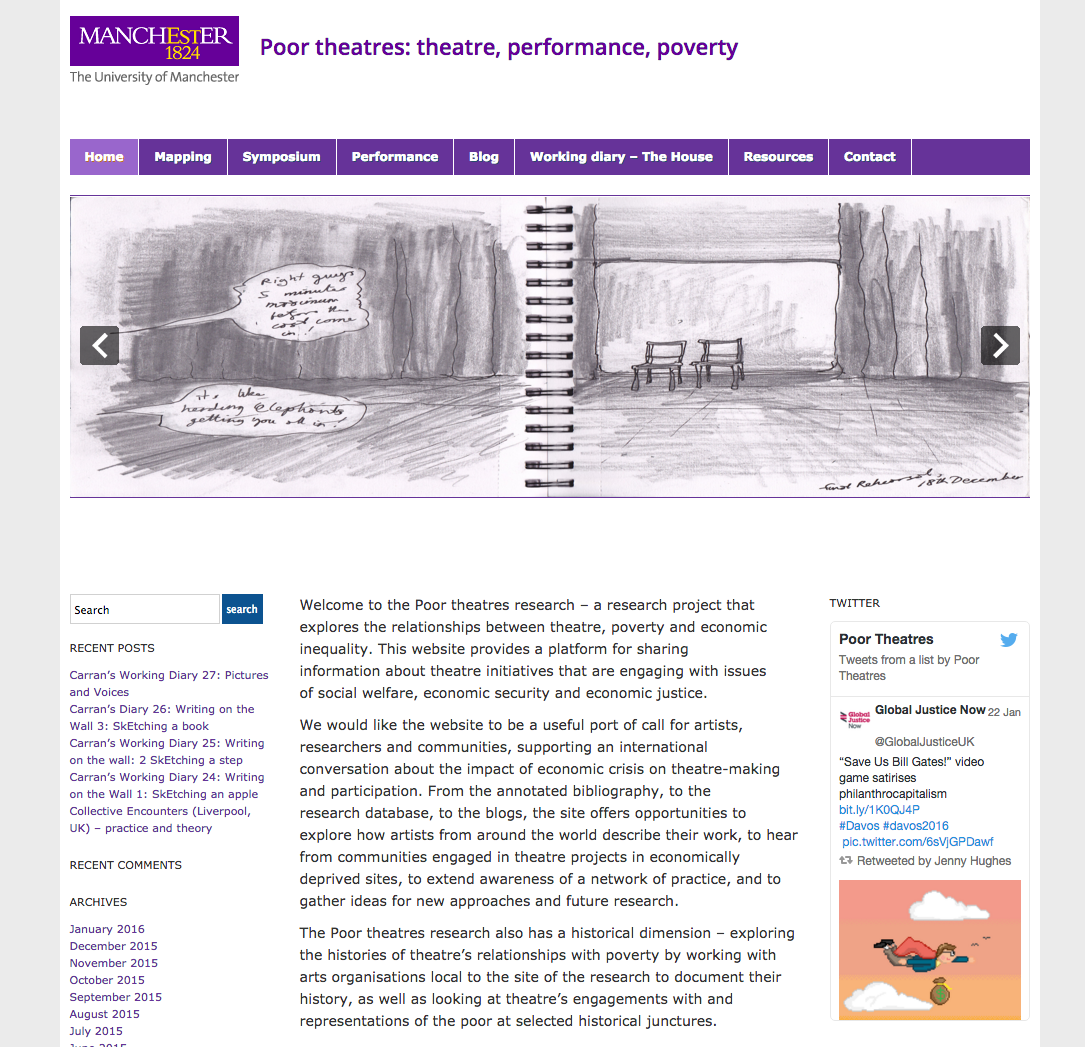 Why engage online as part of the poor theatres research? My engagement with online environments was a response to the shifting agenda of the AHRC (the funder of the research) – in particular, it's development of an agenda around research impact – whereby researchers are asked to demonstrate the public value of their research at the outset. Not an uncontroversial agenda by any means – but I did welcome the opportunity to use online engagement to address criteria for the grant scheme that required me to demonstrate (to cite directly from the criteria):
an awareness of the wider environment and context in which research takes place; … engage actively with the public at both the local and national levels about the research and its broader implications; … maintain professional networks that extend beyond my own discipline and research community; … publish results widely – considering the academics, user and public audiences for research outcomes; exploit results where appropriate, in order to secure social and economic return to the UK.
Most importantly, the criteria made me think about involving end users of the research from the beginning of the process. This reverses the knowledge flow implied in some of that language, which assumes that researchers find things out, create knowledge, and then communicate it to others. The poor theatres research – rather – engaged in multiple and multidirectional relationships with people inside and outside of Universities to respond to the research themes. So, it developed an engagement and documentation process whereby – via online platforms – artists, communities, interested others, could reflect and respond to the research focus in their own way.
So – we've been working across multiple environments and trying to create diverse registers for as well access points into the research, all of which interact, hopefully giving some coherence for the user and an equal footing to each aspect of the research. This is not about developing a single, authoritative voice or coherent argument in the way I would need to if writing a book or PhD. Rather, it is about making a research process – and the kind of curiosities and sociality that underpins any research process – visible, accessible, in common/creative of a kind of research commons – from the outset of a project.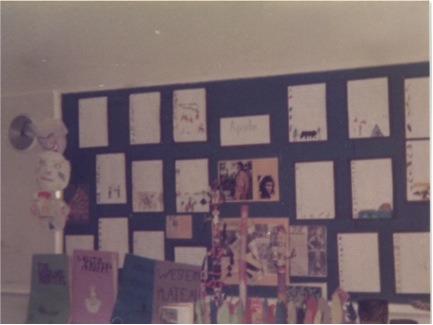 Carran: I am going to take you back a bit in time and tell you a bit of history …
I remember the first computer from when I was teaching in the early 1980s. She was a giant goddess on a trolley and she lived in the stock cupboard in my classroom. She was sometimes in demand. This caused some interruptions in my lessons when the designated computer savvy people needed to wheel her out or when secret training sessions took place in her inner sanctuary, the aforementioned cupboard, making me paranoid that my lessons were being "listened in on" as a cover for "training on the goddess" – or vice versa. (It was pre-glasnost and I was teaching English often with a Nuclear Disarmament theme. It was still the Cold War).
At this time I was also showing films like West Side Story to my pupils which cost an arm and a leg to hire involving forests of paperwork for permissions for the screenings. They were played on a Umatic video player. It was in the days when we did everything by the book. I also made a school promotional film on betacam. I was not a film maker.
For the first three years of my theatre practice and during the early establishment of my company Triangle I did everything by telephone, typewriter and tippex. By 1992 I was using my own word processor and a programme called locoscript. Both were hand me downs from the post mistress down the road. Around about 1994 a local government grant helped purchase a company fax machine.
Then something happened and everything began to go very fast.
Enter stage left Apple.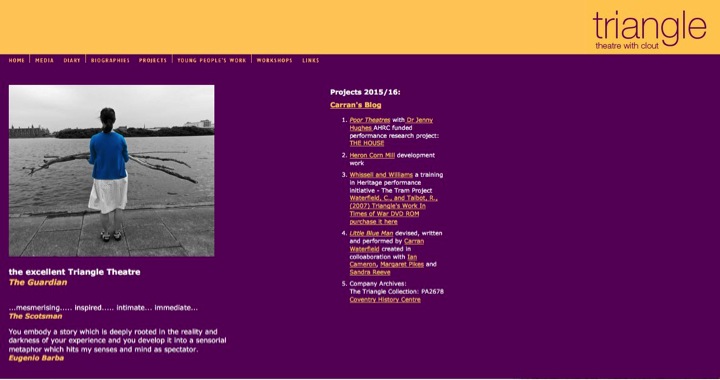 By 1998 people were talking all about websites and everything was about networks – even people became networkers. We all got caught up in an unfathomable net. We were made to train in it as part of business development for emerging theatre companies. I wasn't emerging I was already fully born but I was a reluctant net-ball player in those days so I handed it (the internet stuff) and the money (lots of it) over to web-developers, graphic designers and publicists in order to get on with the creative work, letting the "boys" do their secret cupboard stuff while I got on with the theatre making out front so to speak. The Triangle website was born. However the site all remained like a newspaper, flat and two dimensional. Other peoples' began to move and do quirky things. I wanted to share more than just the history of the work and the diary.
I regret my slow learning in this area. I think maybe some of the gender issues surrounding science and computers in those days and perceptions about "difficult technical stuff" affected my very slow progression towards inhabiting a virtual world, also fuelled by a stubborn refusal to prioritise virtual over actual because it all seemed too complicated.
In terms of actual archives however I did have the foresight to film almost every devising improvisation, workshop and performance and keep almost every publicity document, research article, memento, draft script, letter of dispute or support and so I do have plenty to share digitally. I put this down to learning a little bit about film when I was training as a teacher in the 1970s, an obsession with scrapbooks when I was a child and diligent diary keeping.
This has now translated into a desire to disseminate those actual theatre archives and a curiosity about learning the tools of virtual dissemination in spite of my messy and consciously amateur approach.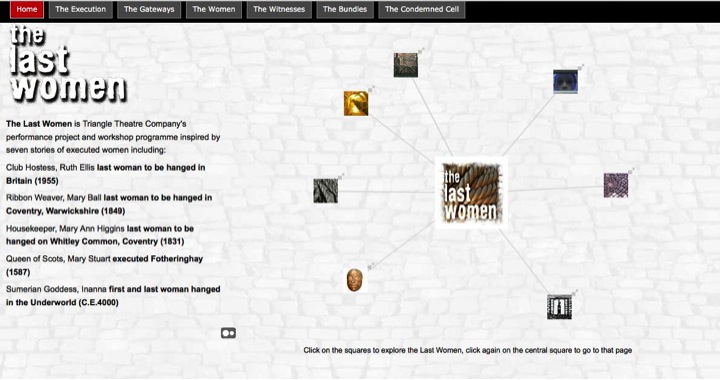 Enter stage left wordpress and exit stage right dreamweaver but wait in the wings please.
My first real attempt at online project work was in 2008/9 when I authored The Last Women website and discovered that this site could not only advertise the project but could be a receptacle for all the research themes I was exploring in that project. I was not performing but devising and directing that piece so I had that kind of need to have all the research materials at my fingertips. The writing/devising processes and the documentation of those processes held hands with a physical manifestation of those processes in the guise of a literal network installation of real tangible research materials in a performance/exhibition space. I was working with a new web developer who made the site swing about and move a bit. The website began as a free wordpress site and became an expensive prototype with an all time one-off payment for hosting. I realised the impact of this work when the British Library approached me for permission to archive it for posterity and public use in their Women's Issues Special Collection. I was proud, relieved that the money had been well spent, but I was broke.
It has taken a lean time following the financial crash, a hiccup in my creative journey, a commissioned piece of solo performance and a research framework around considering poverty and performance led by academic Jenny Hughes to really push me into full consideration of what is possible in terms of online activity in relation to meaningful (for me) research performance. Interestingly the exchange with Jenny has also thrown me back onto the value of old systems such as good old fashioned books, methods of accounting in £ s d. and simple things like paper scissors and sellotape.
The process of making The House, the performance outcome of the Poor theatres research led me into a notion of exposure that has helped me "catch up" by way of exposing some of my naivety and vulnerability as a creative practitioner and blogger. The whole business of exposure is integral to the work we have been doing so the actual job of making The House – because of its nature – the exposure/accounting for/proving you are in need of care/washing dirty linen in public, sits very well as a research process alongside an outcome. The online work on The House – the Working Diary pages – make me live out what is in my head and in the workroom. The diary entries are reflections but they are also scripting tools as well as exposures of present moments. A dedicated project blog allows the form and content to interweave, unlike the corporate – this is what we do and who we are. So my blog pages are of and in their own world – reflections of my creative play world.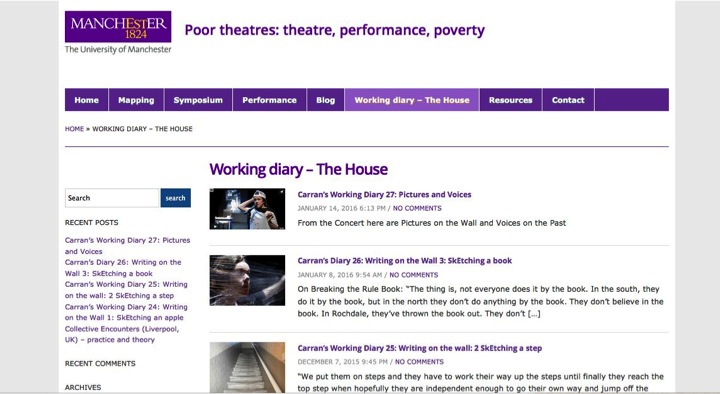 What of the actual, real materials I spoke about earlier – the papers, draft scripts, letters etc.? They have an accession number and are housed in the dark corridors that weave underneath Coventry and their numbers and locations are accessed via a complex network of sub-sets and divisions on a pdf some 45 pages long – lovingly compiled by a tireless couple of archivists, and it takes hours and hours to wrap them up in acid free paper and parcel them up like presents in old fashioned brown boxes. No matter what goes out on the internet, you cannot beat the live, touchable and real. I would say that I am a performer, I believe in the live moment.
Jenny: To sum up, I am going to list some of the good and bad things that have happened as a result of our online presence. This is not a polished reflection on the pros and cons of online presence or a list of tips, but you'll be able to hear these, via my list:
A pro: via twitter we were able to build relationships with a range of artists and researchers, too many to mention here, put some in touch with each other and enhance the profile of others. Also, via twitter in particular – I have been able to immediately access a range of thinkers, resources and materials that have been incredibly important for the research. I would say engaging with twitter is essential for researchers in all fields.
A con: from the beginning, I was engaged in developing an online profile, keeping that profile up to date, creating a website and database, and trying to build relationships with audiences for the research. When not on research leave, as teachers and researchers in University environments, we are juggling multiple demands – this research project did not feel any different! Is the 'perform or else' pressure of the impact agenda compatible with more complex scholarship? How can we protect slow, quiet, deep research?
A pro: blogging provided a platform to communicate in process research findings much more quickly than would be possible in academic publishing. It also helped me to develop a writing style and writing discipline that has fed productively into my scholarly writing.
A worry: when I showed my website to a younger person with expertise in art and design – he laughed out loud and for a long time because he thought it looked crap! Our online presences participate in circulations of visual capital that I, for one, cannot read. How much does that matter? Perhaps it's all right for research to stand somewhat outside of the shiny realms of an already heavily marketed reality?
Here is Carran's Working Diary, which documents the process of developing poor theatres performance research.
Here's Carran's new blog – Carran's Working Titles