Making theatre in the midst of austerity – SYMPOSIUM
A symposium on theatre, poverty and inequality
Wednesday 4th November 2015
Martin Harris Centre of Music and Drama, University of Manchester (UK)
Including the premiere of The House, a solo performance by Carran Waterfield, Triangle Theatre
Call for contributions
Deepening economic inequality has been identified as one of the most pressing issues of our time. A high profile briefing released by Oxfam in January 2015 reported that the concentration of power within an elite minority is creating widespread disenfranchisement and posing threats to social security. In the UK, an economic policy of austerity has featured cuts in public spending at levels unprecedented in the postwar period, as well as an increasingly punitive social welfare system.
How are theatre-makers responding to this moment? What methods and collaborations are being developed, and what new approaches are needed? Where might these come from? What theatre initiatives exist in sites affected by economic inequality? How can artists working in these localities operate responsively and creatively, recognising their complex, diverse and vital dimensions and resisting a 'deficit' model that constructs communities as lacking or in need?
The aim of this symposium is to bring together theatre-makers, researchers and communities to share examples of practice and research that respond to economic inequality. The symposium will provide a platform for exploring how artists are making theatre in the midst of austerity, and, in turn, how theatre is being drawn on to engage communities struggling with its impact.
The intention is to stimulate ongoing exploration of themes arising from recent public discussions of inequality across the cultural sector. These discussions have focused on a range of issues, from the unequal distribution of public sector funding to the lack of socio-economic diversity amongst publics participating in the arts. There have also been interrogations of employment conditions for artists and limited opportunities to pursue careers in the arts for those from non-privileged backgrounds, as well as important debates about arts-led regeneration and the 'gentrification' of economically deprived areas.
We invite proposals for contributions on the following topics:
Theatre in communities and sites affected by poverty and economic regeneration/gentrification
Theatre and economic justice, for example theatre's contributions to Occupy and commons projects
The precarious economies of theatre production
Exploitation and theatrical labour – infrastructures of support and pay for artists
Poverty and precarity as a theatrical aesthetic
DIY theatres
Disruptive and/or critical modes of creative entrepreneurship
We are keen to include presentations on contemporary and also historical examples of theatre-making in times of economic stress. We invite proposals that explore theatre as a medium of social care, support and activism, whilst at the same time interrogating rhetorical claims made for the impact of such practices.
Format
Please send 300 word proposals for presentations that respond to the themes listed above. Proposals can outline presentations lasting approximately 20 minutes, or shorter 'provocations' of 10 minutes.
 Deadline for proposals: 22nd May 2015
Please send proposals and further enquiries to Jenny Hughes and Naomi Paxton at poortheatres@manchester.ac.uk
Further information
The symposium will include an evening performance of The House, a solo performance by Carran Waterfield (Triangle Theatre). The House is inspired by historical sources relating to poor women in the Victorian workhouse and contemporary debates about poverty and welfare. It traces a series of real and imagined characters across narratives of destitution, institutionalisation, creativity and care over a period of almost 200 years. Drawing on the performer's research into her own family's engagements with social welfare systems dating back to the New Poor Law of 1834, The House is an ancestral epic that explores how poor women have developed techniques of self-presentation which reproduce, trick, exploit and expose the regulatory discourses that call them into appearance.
This symposium is an outcome of an Arts and Humanities Research Council ECR Fellowship 'Poor Theatres: A critical exploration of theatre, performance and economic precarity', led by Dr Jenny Hughes. Collaborators in the research project include The Agency (Contact Theatre/Battersea Arts Centre), Octagon Theatre/Bolton at Home partnership, Men's Room (Manchester), The Edge/Booth Centre Theatre Company, and Royal Exchange Theatre/New Charter Housing partnership.
Attendance at the symposium and performance is free of charge. Registration open summer 2015 – details to follow.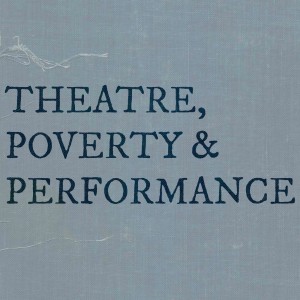 @PoorTheatres        #TheatreAusterity
https://www.facebook.com/PoorTheatres