Seeing Red – Melodramatics (part 2)
Post by Jenny Hughes
Thanks to the Melodramatics group for letting me sit in on some of their rehearsals towards their first piece of live performance, Seeing Red, which premiered in the Bill Naughton Studio Theatre of the Octagon Theatre on 21st September 2015 (see previous blog post 'Seeing Red – Melodramatics (part 1)'. Melodramatics is a women's theatre group that has been meeting for 18 months in a community centre in the New Bury area of Bolton. The group was formed as an outcome of a series of taster art workshops delivered by Bolton at Home's Percent for Art scheme (organised by Dawn Obe-Yates, Percent for Art officer in Bolton South), and, for the last year or so has been supported by the Octagon Theatre/Bolton at Home partnership (see previous blog posts – 'A unique partnership', 'Humanising our public spaces', 'Humanising our public spaces – part 2'). During downtime between filming scenes of a soap opera – their first drama project – members of the group, unprompted, began writing scenes for a play exploring domestic violence, developing this in partnership with Lisa O'Neill-Rogan (former Learning and Participation manager at the Octagon) and, later, Lauren Ash (artistic director of Seeing Red – see Lauren's guest post on her early experiences of working in the group – 'Conversation').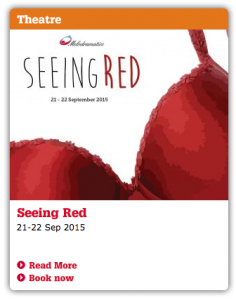 The rehearsals I attended early in the summer were relaxed, full of humour and chat. Some of the time was spent socializing over cups of tea and planning events, and some time talking through scenes from the play, what the women wanted to achieve with the play and putting early sketches of scenes on their feet. In the middle of the summer, Gary Hanks, a Bolton-born professional actor, came in to play the male part in the play, providing an injection of energy and confidence and also, as the only man present, a handy focal point for mickey-taking!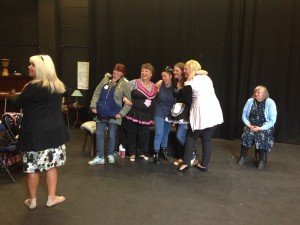 The stand-out moment of the summer rehearsals for me related to the conversations and 'on the feet' rehearsals of scenes that explored how to show the male character gradually gaining control over his partner, isolating her from her friends and family, and then how to depict the eventual explosive scene of violence. There was a great deal of talk about how this was to be revealed to the audience. How can a controlling relationship be represented, especially when it plays out in the intimate spaces of a relationship – often hidden from view, and only revealed via small or subtle signs – a friend being increasingly anxious or not 'herself', extra tired, losing weight, a gesture, phrase or look? As part of this there was a strong desire and determination to show that domestic violence was about emotional and social control – not just about physical attacks – and also to make use of awareness born of personal experiences of domestic violence in the group.
There was some extremely determined, precise and close attention to the moment by moment unfolding of the scenes here – getting the emotional arc right, and also making sure that the succession of small gestures, looks, discoveries, comments, interactions – properly represented what the couple would do 'in real life' at each moment – 'if she was starting to feel intimidated, would she move close to him then?', 'if she was scared of him discovering the red bra, wouldn't she try to hide it at that point?' (see previous post for an explanation ofthe red bra!). The questioning that led the development of the scenes related to the realities of domestic violence and also paid attention making the theatre effective for audiences -'what do we want the audience to understand at this point?', 'what is the function of this scene in the play?' 'how does this work as a true representation of our experiences in this group?'
This added up to a theatrical aesthetic adopted for the play that I have come to think of as 'forensic naturalism', embedded in close, precise, unembellished attention to the underlying truths of a situation and/or interaction, and a revealing of these truths to the audience by means of small shifts in tone, looks, expressions, language, gesture, all realistically depicted. Small details really mattered, and the group, and the performers in each scene, worked really effectively to get these right. So often it seems that naturalism is disparaged (in academic thinking about theatre at least) – seen as a kind 'prison house' form which allows relations of oppression to be uncritically reproduced on stage (although Sheila Stowell's piece, 'Rehabilitation realism', has done a lot to undermine this too easy dismissal of naturalism – reference below). Here – rather than reproducing relationships of oppression – the opposite seemed to be happening – attention to detail was both educative, in terms of sharing awareness and a language about how somebody might come to be controlled by somebody else, and empowering, in that the women were in charge of what was happening in each scene, and over the entirety of the play itself. The workers involved – Dawn, Lisa, Lauren and Gary – were very much supporters and cheerleaders of the ensemble of women that led the process, feeding in advice, tips, suggestions, organisational know-how and direction as appropriate – and it was a complete pleasure to watch their skilled, sensitive, expert and experienced approach to theatre and community work.
Often, the women drew on their own experience as well as learning from domestic violence support programmes (some of the group had undertaken 'The Freedom Programme', a 12 week course for women that aims to raise awareness of how domestic violence occurs, its effects, and to help women develop confidence as well as signal local sources of support – run by Fortalice, a Bolton-based charity that supports women and children effected by domestic abuse). Sometimes the women would use language learned on this programme in their direction of scenes – 'here's where he's saying, "it's you and me against the world" – you feel great at the time, and it's lovely, but it's a trap'; 'that's where he is using the "invisible rules" – you know you've done it wrong, but you don't know always know why'. All of which – in the play – keeps the female character in a perpetual state of nervousness, stress and growing exhaustion …
This forensic naturalism allowed the group to stay in charge of the process, and functioned as a kind of social support and education. It ensured that the play showed and did exactly what they wanted it to show and do – as well as very effectively depicted a complex, hidden and often misunderstood  set of experiences that effect many people and that can feel humiliating and shaming. These questions of representation are of relevance to the broader research explored on this blog – about the theatrical representation of economically hard up communities, also often negatively represented – and it was good to learn from such a strong and thought-provoking example of theatre that related to this theme. (Re)presentation is a fragile and uncertain thing – it can feel and be incredibly exposing – the crux point for the proliferation of all kinds of prejudices, misunderstandings, stereotypes, discriminations. But, when carefully managed – representation, presentation, performance – can be clarifying, elevating, inspiring and joyful. Seeing Red, the culmination of all this work, was a politically and emotionally intense piece of performance – in which the fragilities of representation were brilliantly managed by this ensemble of women, both during the rehearsal process and in performance.
Reference
Sheila Stowell (1992) 'Rehabilitating realism', Journal of Dramatic Theory and Criticism, 6(2): 81-88