Dispatches on the Band of Hope – North Wales
Post by Jenny Hughes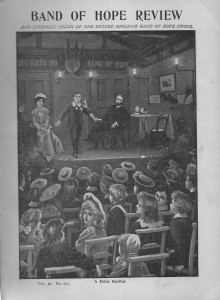 'A Prize Recitation' – Band of Hope Review, 1906
It was good to present research on Band of Hope theatricals at the Theatre and Performance Research (TaPRA) conference at Worcester University last week – you can read a post on the presentation here – 'Audible and voluble expressions – part 2 (1887)'.
At the end of the conference, my dad picked me up from Worcester on his way to North Wales – we were travelling to Snowdonia to assist my uncle (Phil) with his honey harvest (he's a bee keeper). This is North Wales chapel country and – to my amazement – my dad (72 years old), uncle (76 years old, partner of my aunt Meg), his brother Charlie (74 years) and sister June (78 years old) were all members of the Band of Hope as children! I hadn't known this before and it was brilliant to hear their memories of the Band of Hope as well as Sunday School activities – the two movements, Band of Hope and Sunday Schools, were closely related, both in terms of national infrastructure and local organisation. The recollections of my relatives conveyed a very real sense of a networked community providing lots of social and cultural activities for children (Band of Hope on a Monday, Bible class on a Tuesday, other activities throughout Sunday), all facilitated by local people connected to the chapel and creating, in their words, 'a community spirit that is missing today'. I also discovered that my great grandfather, John Williams, a smallholder and worker in the copper mines on the mountain, was also a Sunday School teacher and my grandfather – Taid – was a 'conductor' at local Sunday School events.
Local children went to both Band of Hope and Sunday School because (a) they had to – they were made to – if you didn't go your family stood out as less respectable than others, and (b) 'there was no tele then'. The motivation for going varied between them – the men generally agreed that 'you didn't want to go, you thought "oh no, I've got to go to Band of Hope", you had to go, but it was enjoyable when you got there', although Charlie said it was less enjoyable as he grew older. June recollected going to the Band of Hope with much more of a sparkle – 'yes we wanted to go, I couldn't get there fast enough, I would skip down the road to the Band of Hope, all your friends from school were there you see'.
June remembered that there was singing, sketches and recitations in the weekly meetings – and my dad reckoned that my description of Band of Hope in the previous post was pretty accurate, though  he couldn't recall spending much time memorising recitations (he has a good memory, so perhaps didn't need to make an effort to learn his, and he reported that his mum – my Nain – was pretty fierce about making sure he was prepared). They all agreed that – by the 1940s, in this area at least – the focus was not on drink and temperance but on teaching children how to live a good life – that is, educating them in how to translate the Bible into everyday life. Sunday School was about religious instruction, but the Band of Hope was 'to teach you how to live, how to treat other people, how to be good'. Lower levels of drinking especially amongst children and changing attitudes to alcohol by this historical juncture had perhaps led to a broader focus for the Band of Hope movement – 'it was about making Christianity relevant to the modern day. You were being educated in morals without really realising it'.
They all agreed that the Band of Hope was more lighthearted and joyful than Sunday School – there was no laughing in the Sunday School (at least, on North Welsh chapel versions of Sunday School) and you had to put on your best clothes to go and sat in rows. At the Band of Hope, you wore normal clothes, there was running around, a relative lack of discipline and lots of humour – 'it was a bit like a youth club really' – ' you had the lessons in the Bible but it was in a light, joyful way, nothing sorrowful'. Meetings took place in the local school or in the vestry of the chapel – a more warm and cosy room than Sunday School classes, which were held in the chapel itself. 
Parts were given out to learn for performances at the meeting the following week and 'the ones who were best at speaking out loud got the best parts'. Phil – my uncle – hated recitation. I asked him if any of the workers noticed he was shy and whether they encouraged him, and he said 'no' and laughed a bit. This was a very different social and emotional milieu for children than now – kind, welcoming to an extent, but not evidently nurturing of individuals so much. From what I understood, it was defined by the expectation that children would respect adults and conform to certain emotional codes that definitely did not include the display of or attentiveness to any vulnerability. They mentioned a Welsh word that summed this up which I failed to write down and which they couldn't find an adequate translation for – something like 'respect' but not quite … But having said that, the Band of Hope 'was excellent in that it gave the slower ones a chance. There was no comparing, everyone got a chance'.
They remembered being split off into groups and sent with their group to different parts of the room, with a segment of a Bible story to rehearse and prepare for performance. Scripts weren't necessary here 'because everyone knew the Bible stories, and you could make up your own words'. 
Some Band of Hope and Sunday School workers were remembered warmly by the four and others less so. My dad recollected that the workers were all 'religious people' (with an implication of hypocrisy) and that 'going to chapel three times a week doesn't necessarily make you behave like a Christian, does it'.
I asked – 'did everyone go – even the poor kids in the village?' and they all said, pretty much in unison – 'everyone went', stressing that there was less of a sense of 'poor kids' then because everyone was in the same condition – 'we were all poor, nobody stood out.' The rich children came from the families running the mines – they didn't attend chapel but went to Church of England and there was no mixing between chapel and church. There was, however, lots of mixing between chapels, with frequent recitation competitions 'that kept you motivated' and also annual trips to Rhyl or Chester zoo …
All this has hatched a new idea (thanks to Naomi Paxton for this one!) – I had wanted to get a group of children from a local youth theatre to practice some of the dialogues and recitations published in cheap pamphlets by the Band of Hope Unions over the years. But, why not invite older people who remember being part of this incredibly important movement before it died out? Any takers out there?