"This is ours"
Post by Jenny Hughes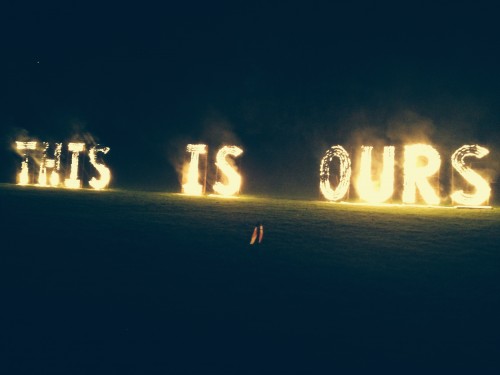 (fire letters created by pa-Boom – see artist credits below)
'This is ours' – the final image from the Everyday Heroes outdoor performance held on Heginbottom Crescent and the green space on Smallshaw Lane opposite the Crescent, on 27th September 2014, in Ashton-under-Lyne. The performers led audiences of residents (and visitors from further afield) on a walk around Heginbottom Crescent in the Smallshaw/Broadoak area of Ashton. Scene fragments along the way presented expressions of appreciation for 'local heroes' (nominated by residents and community members), narratives of isolation and struggle, and celebrations of the act of greeting ("hello, hello, hello") and of coming together, neighbourliness, and informal modes of exchange and support. The audience were called to each scene station by diverse and various assemblies of 'Pied pipers': – a gaggle of kids on bikes (an opportunistic and marvellous last minute insertion that took advantage of local children's curiosity about this bunch of strangers rehearsing, singing, dancing and proclaiming on their street); the Dobcross Silver Band in full regalia, sounding brilliant; two beautiful lady dancers from the line dancing club at the local Broadoak Community centre; and a group of performers and neighbours demonstrating perfectly authentic 1970s dance moves (to a background track of the Bee Gees' 'You should be dancing'). On the final stop the audience were welcomed by the community cast to a street party. Characters met along the way included Liz, new to the area, played by an actor: 'Moving somewhere and not knowing anyone … you're alone with just a bag of sugar and no teabags … I don't know; I can't speak now because I'm just not sure what to say. Who to say it to, how to say it. It's hard because, where do you start? You're on your own'. And Dave, who grew up on the street and lives on it still, played by himself, reminiscing about how 'we used to never exchange money for goods. You could trade skills you know, I do this for you and you do this for me and it wasn't about the money … if someone on the street bought a trampoline, they would say, don't buy a trampoline, we've got one, come and use ours. Or buy something else and we can swap sometimes, so everyone has a share in everything else'. And also Ayanda – standing proud on top of a jeep belonging to Alan Fish (prominent in the town, and a nominated everyday hero) – giving a speech worth quoting at length:
It's nice to have someone looking out for you checking up on you.
It's nice to have someone in your life that was a stranger, someone you didn't even know before. But they care. Care enough to offer a hand …
It's not hard
I'm here
I just wanted to say
And you're here
And we're all here
To say
Let's share it.
And then you're not alone anymore.
You're not thinking I can't do this.
You're not saying it's too hard …
You're saying, it's OK to ask him next door
I know them there
Someone, people I know. There
Because that's the world we want to live in. With people there
And now this world is ours.
And we own it together
And we hear, and we say
Is everything alright?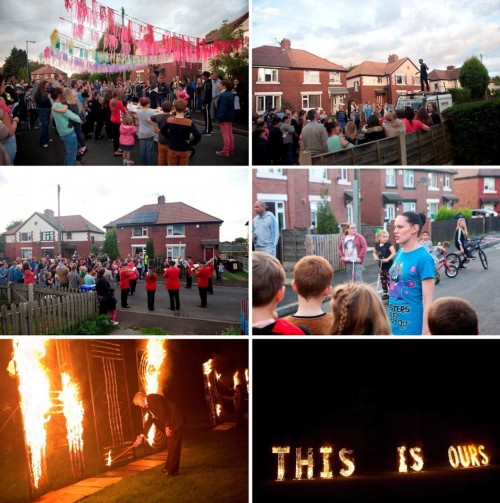 (images courtesy of Paul Floyd Bake and Chol Theatre)
The final street party included an incredibly moving piece of a capella singing by community cast member Audrey, and a statement of appreciation from each performer about their own everyday hero … mums, dads, grandparents, teachers, Scout leaders and friends were all celebrated here … After this, the audience were invited to join in with karaoke, share soup and samosa, and get involved in den building on the green opposite the Crescent, and then stay for a performance by the young people's company and the fire letters that finished the evening.
It's important to not leave off this brief account of the performance without mentioning the design. The street featured 'house for sale' signs detourned to exhibit the welcoming ambience of the performance, with 'for sale' or 'sold' replaced with a simple 'hello' (see photo below). The tarmac underfoot featured multi-coloured chalked circles, there was a glitter ball suspended between lampposts above the 1970s dancing (I've no idea how this was achieved!), and fronds of sparkling coloured strips cascaded above our heads during the street party scene.
This was an event intense with sights, sounds, colour and movement – a powerful and evocative invitation to experience, be part of, realise, appreciate what often – perhaps – seems like a lost world of community configured by warmth, respect, appreciation, mutual support and informal exchanges. It left me with a lingering and tantalising sense of promise and reminder of a world that I forgot was possible …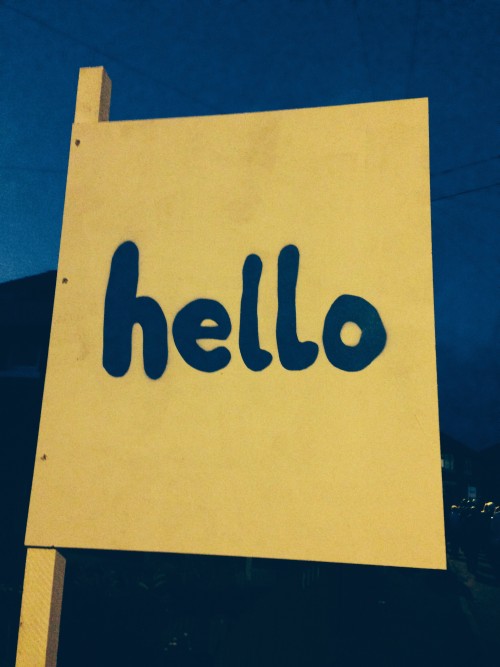 (design by Russ Henry from Hot Soup House; image courtesy of Jenny Hughes)
Everyday heroes was created by Chol Theatre and was commissioned by a partnership initiative formed between the Royal Exchange Theatre in Manchester and New Charter Housing (a social housing agency) in Ashton-under-Lyne. The partnership commissioned Chol Theatre to deliver this final project, which represented the final phase of the three year initiative. I have been working with the arts consultant Gerri Moriarty to evaluate the partnership, and this final project also comprises the first of five theatre projects in and around the area of Manchester (UK) that the Poor Theatres research project will document. Over the next few months an evaluation report, clips from the rehearsal and performance, photographs, and clips from interviews with artists, cast members and the community will be added to the Poor theatres map and database. The evaluation is in process – it is raising lots of tricky questions about the dynamics of community engagement, partnership working, project management, commissioning, working across professional cultures, all relating to – arguably – the challenges of making theatre in a broader economic climate that encourages short-term project-based engagements. The evaluation will try to name these challenges in ways that will be useful for the artists involved, partnership and broader audiences. In this post though, I want to leave aside the evaluation for now, and give an account of and response to the event itself.
"This is ours", and the embracing of the 'common' implicit in the performance itself, is a provocative final statement for the partnership, and a powerful one. It resonates, I think, with tensions arising from socio-cultural interventions in community spaces and places globally – places and spaces which – as various commentators on neoliberalism have repeatedly pointed out – are increasingly owned, rented, controlled, exploited by impersonal and alienating manifestations of economic power. Any brief encounter with social housing and social welfare domains over the last few decades – most lately signalled in the UK by the pernicious bedroom tax for example (which has negatively effected people in social housing in Ashton) – testifies to the broader pattern of 'accumulation by dispossession' (to quote David Harvey) brought about by neoliberal economic policies inside as well as far beyond Ashton-under-Lyne.
Here's an example from the Everyday Heroes project – early in the rehearsal process, some distress was expressed by community cast members living close to rehearsal site, following a consultation meeting between the housing association and residents about a proposal to build 70 new houses on the estate. The proposal caused much anger and concern, and left housing workers (and some community cast members)  awkwardly placed between appearing to support the housing association and some potentially angry neighbours. No longer part of state-controlled local authorities (although I wouldn't want it to seem like local authority housing is without problems!), housing associations are corporate bodies working inside an economic context that permits corporations the freedom to economically develop – altering areas and neighbourhoods in ways that clearly illustrate that 'this, expressly, is not ours'. Housing Associations also – however – continue to sign up to broader social housing objectives – of enriching communities, working for the well-being of communities – and, according to various taxi drivers met during the research (!), New Charter Housing has been very good for Ashton in this regard. This moment in the rehearsal process though – for me, did begin to reveal the deeper and broader challenge for a theatre project in this context very vividly.
The phrase 'This is ours' was not – I don't think – consciously selected to respond to the specific proposal to build new houses, but it does reflect a contestation of ownership over what Italian philosophers Hardt and Negri call 'the common'. I am very interested in how – as the Poor Theatres research encounters more local and international projects – this contestation plays out across different spaces and projects.
I selected Hardt and Negri's book, Commonwealth, from a steadily increasing, tottering-over pile of books to read while working on this project, partly because Hardt and Negri clearly stole the name of their book from the exciting new(ish) theatre company Common Wealth – Everyday Heroes director, Evie Manning, and writer, Aisha Zia, are core members of Common Wealth. But also – because of the book's resonances with the phrase 'This is ours'. This phrase, by the way, that was suggested by Andrew from the community cast early in the rehearsal process, and agreed on as a suitable final statement for the performance.
Hardt and Negri's work has been a source of inspiration to, and has also drawn inspiration from, the global justice movement – and its continuing attempts (via the Occupy movement for example) to articulate a means of political resistance fitting for our neoliberal times, where the rhetorics of the free market appear to be unrelentingly predominant and without alternative (there are no exchanges outside of monetary domains, and times and spaces of work and community are increasingly precaritised). Hardt and Negri's notion of the common identifies the fault lines inside this context. Here, the common wealth of the material and social world – space, bodies, language, feelings, interaction, images, shared knowledge, codes, networks – is both produced by neoliberal economic practices, which increasingly rely on the common for its capacity and potential productivity, but is also impossible to contain and control. Knowledge, communication, feeling, ideas, images, languages, codes, pathways, walkways, shared spaces – these are manifestations of the material and social world that cannot ever be fully owned – that are inherently social, in common. Capitalism in its most modern form – needs to maintain the freedom of the common, as the modes of productivity it favours rely on the creative capacities of the 'multitude in common' – but capitalist systems of labour and ownership also try to introduce modes of relationship to the common that work against and compartmentalise it. Creative activity by the multitude recaptures the common and ghosts alternative modes of living that challenge such constraints and compartmentalisations … Here, the common is characterised by mixture, diversity, movement, communication, openness, unboundedness, inclusiveness and love – an openness to all regardless of property, rank, place.
Hardt and Negri say 'it is difficult to see the common, even though it is all around us' (pviii). Perhaps 'This is ours' – and some of the other moments, images, phrases from Everyday Heroes – provided a glimpse.
Credits
Everyday Heroes was created by Chol Theatre and directed by Evie Manning, Clara Collett and Sam McKay. The project was commissioned by the Royal Exchange Theatre. The script for both performances was inspired by material generated by the cast of community members and young people, and written by Aisha Zia.
Everyday Heroes was designed by Russ Henry from Hot Soup House.
The fire image, 'This is ours', was created by pa-Boom.
Bibliography
Michael Hardt and Antonio Negri (2009) Commonwealth, Harvard University Press: Cambridge, Massachussetts and London, England.